activities
Curricular activities are those activities that are a part of the curriculum. Co-curricular activities are carried out outside the normal classrooms but they supplement academic curriculum and help in learning by doing
Curricular/ Co-curricular activities
Curricular activities are those activities that are a part of the curriculum. Co-curricular activities are carried out outside the normal classrooms but they supplement academic curriculum and help in learning by doing. These activities help students to develop problem-solving, reasoning, critical thinking, creative thinking, communication, and collaborative abilities. Also these activities are meant to bring social skills, intellectual skills, moral values, personality progress and character appeal in students. Activities like creativity, writing, poetry, painting and discussion help to understand the lessons well. The teacher or the administration at IBS, encourages students so that more and more of them can participate in the activities by arranging the same during school hours. 
Extracurricular activities are defined as those school-based activities that are not tied to the curriculum.
Extracurricular activities
Extracurricular activities are defined as those school-based activities that are not tied to the curriculum. Examples of extracurricular activities are: being a member of a sports team, serving as chief editor of the school newspaper or playing in an orchestra in school. 
IBS encourages students to be interested in various things so that academic and extracurricular life on campus can flourish. IBS is likely to have a handful of these extracurricular activities available.
ADMISSION  OPEN
NURSERY TO CLASS XII
2022 – 23 SESSION
THEATRE
Theater is an integral part of IBS. Theater teaches life skills to be smart and creative.
DANCE
IBS believes that dance is a conversation between the body and the soul.
Music (Vocal and Instrumental)
IBS believes that music is what feelings sound like. Training is given by trained and experienced teachers to students who opt for music for vocal & instrumental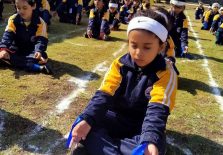 Yoga & Meditation
Yoga & Meditation is also practiced by students for relaxation and fitness.
Arts and Craft
Students opting for drawing and craft are trained in sketching, painting, soft-toy making, candle making, pottery, flower making, needle work and various other decorative items
Scout and Guide
It can be opted for by students from Class IV onwards . A trainer from Bharat Scout and Guide, Indore and the incharges Scout and Guide of the school train students. Outdoor camps are also organized for them
IBS BELIEVES IN BOTH MENTAL AND PHYSICAL DEVELOPMENT
SPORTS
In IBS, sports is a vital part of education. Sports in our school imparts skill development, performance enhancement and educational potential. We believe in a positive relationship between being involvement in physical activities and overall development.
INDOOR GAMES
Various indoor games competitions such as Chess, Table Tennis, Carom are organized for students to make them fit and active
BASKETBALL
Basketball has helped our children to build up speed , balance and co-ordination.
VOLLEYBALL
Volleyball is a physically demanding sport, which helps to build students' skill and athletic ability.
CRICKET
Badminton is an enjoyable sport in IBS for children to be flexible and active..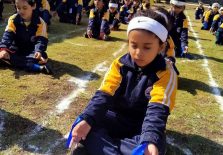 YOGA
Yoga has been an integral part of Health and Physical Education in IBS.
KARATE
To be more active, confident and focused, IBS trains students in Karate.
WE LOOK FORWARD TO GRAB EVERY OPPORTUNITY TO CELEBRATE.
MEGA EVENTS
IBS Global Academy creates several opportunities for children to go on stage, to be in the limelight and to perform in front of huge gatherings. These avenues boost students' self-esteem and self-confidence and gradually carve their personality.